Financing
SERVING THE JACKSONVILLE COMMUNITY SINCE 1992
Have An Emergency? 24hour Service Call: (904) 241-6727
FINANCING IS AVAILABLE
Estes Heating and Air Conditioning of Jacksonville understands that issues come up and that people need the flexibility to make good decisions.
Emergency repairs can be unexpected and Estes can help.
Questions? We are happy to help! Contact Us Today.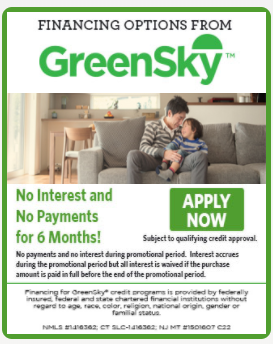 CREDIT OPTIONS
*SUBJECT TO QUALIFYING CREDIT APPROVAL. INTEREST ACCRUES DURING THE PROMOTIONAL PERIOD BUT ALL INTEREST IS WAIVED IF THE PURCHASE AMOUNT IS PAID BEFORE THE EXPIRATION OF THE PROMOTIONAL PERIOD.
NO HIDDEN FEES
Estes Heating and Air Inc. places transparent communication at the forefront of our our business, and our team will never surprise our customers with hidden fees or extra costs. Customers rely on us to be straightforward with our estimates, and our honest, hard-working labor. After our services are completed and your care is our highest concern.
UPFRONT PRICING
NO INTEREST/NO PAYMENTS
Every step of the way, our customers are fully informed and understand about the costs of our HVAC services. This is why we have so many satisfied customers. Estes Heating and Air Inc. offers transparent prices and top-quality services to match.
GREEN SKY CREDIT PROGRAM
GreenSky® is a program name for certain consumer loans and credit plans extended by participating lenders to borrowers for the purchase of goods and/or services from participating merchants/providers.
Participating lenders are federally insured, federal and state chartered financial institutions providing credit without regard to age, race, color, religion, national origin, gender, or familial status. GreenSky® is a registered trademark of GreenSky, LLC. GreenSky, LLC and its wholly-owned subsidiaries service the loans on behalf of participating lenders.
© 2006 – 2019 GreenSky, LLC. All Rights Reserved.
Sign Up Today to Recieve Special Offers and Coupons